MAIDEN PEAK SKI TRIP
Willamette National Forest
February 2nd-3rd, 2010
---
**Submit your photos/comments to romick1@comcast.net
* Mike Baum
* Roy McCormick
* Tim Swallen


Trip Report: This was a "spur of the moment" overnight ski trip to the Maiden Peak Shelter. January 2010 was one of the warmest months on record in Oregon and the ski conditions have been marginal at best but finally a few inches of fresh snow aligned with our schedules. The three of us left Gold Lake Snow park at 11:50 and proceeded clockwise down Gold Lake Road and up the Maiden Peak and Pacific Crest Trails to the shelter, arriving at 15:30. We shared the cabin with Dr Jan from Czechoslovakia who arrived on snowshoes around 19:30 and we had a grand time swapping stories all evening.
On Wednesday Tim and I headed up 7,818' Maiden Peak while Mike and Jan headed around the west side of Willamette Pass ski area. Freezing fog, wind and flurries greeted us at the summit so we headed down quickly and met EMR's Sue Sullivan and John Mowat back at the cabin. Tim and I skied back through Pummy Flats and the Rosary Lakes to meet up with Mike at 16:15 at the ski area. Après-ski debrief was held at the Brewer's Union in beautiful downtown Oakridge.
---
** Please note that the target photos are large .jpg files (~2MB). Click on thumbnails for full- sized, unedited images **
rm photos are not copywrited. Please feel free to save and use. (Right click... Save as...)
---
Our route (in red)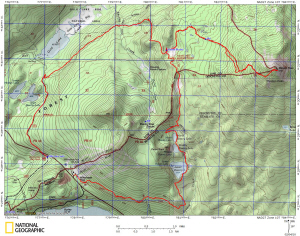 Click for full sized image.

---
Headed down Gold Lk Rd
Mike enjoying the nice day
Some sun thru the trees
PCT logo
Old style trail signs
Final stretch
Home sweet home...
Hangin' out
Dr. Jan
To the peak! (Wed)
1800' of climbing
Rime ice up high
Close-up
My summit Shot
& Tim on the foggy top
Fun ski down.

Pulpit Rock

Weather was changing by the minute
This little guy wasn't doing too well

Video of Tim headed down Maiden Peak trail
(23MB)
Other Adventures Facebook photos
---