Animal Rescuers Staff River Road Thrift Store
by Ed Russo
Store With Heart: If you are looking to donate quality used clothing, jewelry and small household items, or would like to buy them, Reggie wants to see you. He might even give you a playful swat to show his appreciation.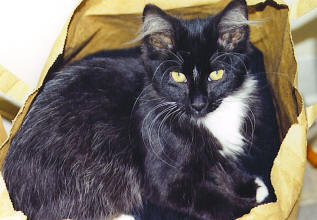 The small store is operated by a nonprofit group of animal lovers who call themselves the Shelter Animal Resource Alliance, hence the SARA acronym. Founder Diana Robertson and other volunteers accept donated clothes and other items, sell them in the store and use the net proceeds to help find homes for dogs and cats that probably would be euthanized in the Lane County Animal Regulation Authority shelter in west Eugene.

SARA's store also serves as a mini-adoption center for cats and kittens, giving people a chance to meet the animals away from the "sometimes overwhelming shelter environment," Robertson said. Since last March, SARA has found newhomes for 56 cats and kittens from the county's shelter and from cat rescue groups such as The Ninth Life.

Robertson and the volunteers also distribute donated pet food to shelters and publicize the need for more people to adopt animals and reduce the county's pet overpopulation problem.

It takes money to do these things, so that's why Robertson started SARA's Treasures last February.

The store had $11,323 in first-year sales, but ended up with a net loss of nearly $4,800 because of start-up costs, the post Sept. 11 retail slump and the "desire to save as many adoptable animals as possible," Robertson said.

Now going into the second year, SARA's Treasures needs better quality used books, jewelry and decorative items, she said. If the goods are animal related, all the better. Clothing is accepted, and the group also will take small household items, but they can't be very big because they must fit in the 440-square-foot store.

SARA's Treasures is at 1035 River Road, near Tio Pepe Restaurant. Store hours are 10 a.m. to 4 p.m., Tuesday through Friday; noon to 5 p.m. on weekends. The telephone number is 741-7253.

Retail Notebook by The Register-Guard Eugene, Oregon
January 24, 2002, pg. 1 Copyright 2002 The Register-Guard. All right reserved.
Reproduced with permission of the copyright owner. Further reproduction or distribution is prohibited without permission.