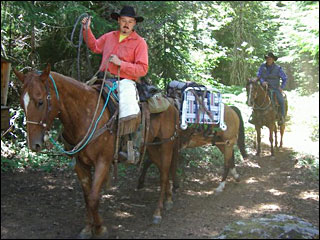 Member's of the sheriff's mounted poss pack in gear for the rescue. Photo courtesy search and rescue volunteer Kenton Sturdevant.
THREE SISTERS WILDERNESS, Ore. -- Search and rescue volunteers packed a 17-year-old Eugene girl out of the wilderness after a medical problem stopped her from hiking out herself.
Volunteers hiked in to Honey Lake Saturday afternoon after receiving a request for help getting a girl out of the wilderness from Honey Lake, a 9 mile trek from the nearest trailhead.
The girl was unable to walk out herself due to a pre-existing medical condition, according to search and rescue.
"She had had surgery on her feet and had never really done a lot of hiking so this was somewhat of an adventure for her," said John Miller with Lane County search and resuce. "Unfortunately she was inexperienced and didn't respond to the subtle clues as your body talks to you during long hikes."
All told, 23 volunteers helped over the course of the 30-hour rescue mission.
Miller said the girl's companions were well-equipped and she was never in any danger. Search and rescue used ground crews instead of a helicopter due to the wilderness setting, Miller said.
Rescuers hiked into the lake during the afternoon and night and waited until daylight to pack her out. Crews carried the girl on a litter before transferring her to horseback. They got her out of the wilderness Sunday afternoon.
Miller said the girl and her companions did the right things.
"They had the gear, sent someone out to call for help, stayed put until help arrived," he said, "so I can't fault them for their reaction to the situation."
For people planning an outdoor adventure, he advised building up little by little.
"Test yourself a little bit at a time," he advised, "not a 9 mile hike into the wilderness with no roads around for exits if you need them."