MOUNT THIELSEN OBSIDIAN CLIMB
Mt Thielsen Wilderness, Oregon
---
**Submit your photos/comments to romick1@comcast.net
* Brian Hamilton - Leader (Photo credit BH)
* Marci Hampton
* Roy McCormick
* George Jobanek - Assistant leader
* Andy Jobanek
Brian's Trip Report

Trip Report: Four of the originally planned six Obsidian members met at South Eugene HS at 1700 Saturday for the carpool to Diamond Lake CG. One had elected not to go and one was working late and would meet us at the campground. Conditions at Diamond Lake were unseasonable cool and showery with new snow visible on Mt Bailey to the west of the lake.
The five of us started hiking from the deserted Thielsen trailhead at 0510 and made good time up to the PCT junction, where we caught glimpses of the peak through the clouds. Conditions improved and by the time we reached "chicken point" the sun was shining and the winds were calm. After prussicking up Brian's fixed line we all enjoyed the beautiful view from a cloudless and bug free 9,184' summit around 0845.
The hike out was uneventful. We passed quite a few hikers, climbers, and Deschutes Mountain Rescue folks headed up the trail (They were training). We arrived back at the now crowded trailhead at 1215.
Mount Thielsen info from Wikipedia
---
** Please note that the target photos are large .jpg files (~2MB). Click on thumbnails for full- sized, unedited images **
rm photos are not copywrited. Please feel free to save and use. (Right click... Save as...)
---
Here is our GPS track from the climb. (Garmin GPSmap 60CSx):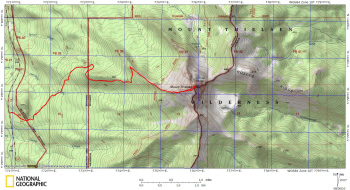 GPS analysis by Garmin Connect
---
Sunset over Diamond Lake on Sat night
Mt Bailey
We snagged one of the last unreserved campsites
After 4 miles by headlamp we watched sunrise from the PCT Jct
PCT logo
Sunrise colors looking west
The weather looked uncertain
Diamond Lake dawn
Marci headed up the ridge. Note the rime ice.
Looking up the frosty ridge
Rime ice close-up. Yes, this is August!
Marci, Andy, George and Brian
This shot is NOT rotated 90 degrees
Thielsen is known as "the lightning rod" of the Cascades
Onto the scree
Dike close-up
This shot is from "chicken point" at the base of the summit pinnacle
Brian leading up the pinnacle

Looking down the east side.

Looking north toward Diamond Peak
Brian reaching the top of the pinnacle
Me topping out (Photo credit BH)
Leader Brian
Doing my best lightning rod impression (BH)

We had the small summit to ourselves

PCT is visible just to the left of the shadow
Looking down the south ridge
USGS marker
Back down at the PCT jct, some clouds moving in
Blowdown area
---