SNOW RESCUE PRACTICE
Eugene Mountain Rescue
Hayrick Butte, Willamette National Forest, Oregon
February 20th-21st, 2010
---
**Submit your photos/comments to romick1@comcast.net

Trip Report: This was a two-day training exercise involving low to medium angle snow rescue techniques. It was attended by 24 EMR members on the first day and 19 on the second. We had sunny but windy conditions with a beautifully clear night out under the stars. The snow is thin this year but deep enough to practice various anchor and lowering systems and a full real-time rescue scenario on the second day.
---
** Please note that the target photos are large .jpg files (~2MB). Click on thumbnails for full- sized, unedited images **
rm photos are not copywrited. Please feel free to save and use. (Right click... Save as...)
---
The practice area was on the south side of Hayrick Butte.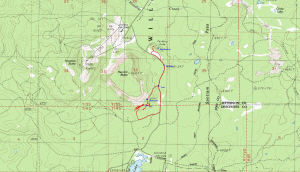 ---
Tim starting his anchor demo
Building the system
Hey, it's not a toboggan?
Low-angle single rope
Arrest!
Higher angle main and belay systems
Checking the system
Main Lowering detail
Nice day!
Mt Washington
Quick snow shelter duplex (mine's on the right)
Dinner table
Bob settling in
Morning light on Mt Washington
Chilly breakfast
Sunday's scenario involved 2 fallen climbers with leg injuries
LiLi played an excellent victim in a tree well
"Ready to Lower!"

Wayne running the belay

We had some snafus but a great learning experience.
The litter evac used our gear to simulate a patient
---