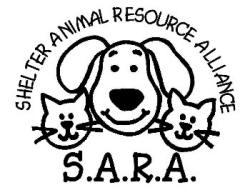 S.A.R.A.'s Treasures
A Better-Quality Thrift & Gift Shop Operated by:
Shelter Animal Resource Alliance
Located at:
Hours:
10:00-6:00 Everyday!
541-607-8892














S.A.R.A.'s Treasures is our main source of funding, and we are always looking for new or gently used quality items we can resell, including:
Clothing and Shoes (men-women-children—all sizes)

Kitchen Items (utensils, glassware, dishes, kitchen electronics, cookware)

Household Items and Décor

Games and Puzzles

Jewelry

Purses and Accessories

Books

Toys and Stuffed Animals

Movies

CDs

Pet Supplies

Art and Craft Supplies

Linens

Furniture

Tools

Knick-knacks and More!
---
Unfortunately, S.A.R.A. is unable to accept donations of the following items:
No real fur
No older non-cable ready televisions
No items in need of repair (we don't have the resources or personnel for repair)
No excessively worn, ripped, torn, wet, or dirty clothes or linens (we don't have the facilities for repair or laundering)
No children's car seats, cribs, playpens, or any item a child goes in (they are an insurance liability issue due to recalls and we cannot afford the coverage to sell them)
No garbage (we have to pay to have it removed, and this diverts money we could have used to save more animals)
No wire hangers
No mini-blinds or used curtain rods
No tire chains
---
Thank you for caring about animals enough to donate to us. We would love to be able to take everything that is offered to us, but we have very limited space and must protect our resident animals and volunteers from hazards. We try to keep our overhead costs as low as possible, and spending money do dispose of broken items diverts money away from our mission.
Thank you for understanding and for supporting S.A.R.A.'s.
---
For questions about donations, please call 607-8892. Thank You!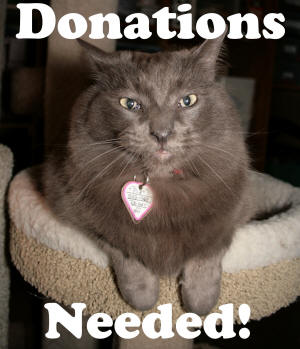 Latest Update: 02/21/2012
© 2005-2011 Shelter Animal Resource Alliance. Eugene, Oregon All Rights Reserved